Joe Joyce believes he will fight Oleksandr Usyk for the WBO, IBF and WBA titles in 2024.
He has boxed Usyk before, in a five-round World Series of Boxing bout when they were amateurs, but expects to challenge him for the unified heavyweight championship next year.
Tyson Fury has exhibited little interest in revisiting the negotiations for an undisputed title fight and Usyk's next mandatory challenger should be Filip Hrgovic.
Tyson Fury has appeared to rule out a unification bout with Oleksandr Usyk claiming he is fighting for money and has no interest in fighting for legacy

That therefore gives Joyce time. If he can beat Zhilei Zhang in their rematch later this month, he will win back the WBO Interim strap and more significantly position himself as the mandatory challenger for the WBO championship Usyk holds.
"That's the plan. It's tricky. You never know what's going to happen," Joyce told Sky Sports. "I'll get there in the end. I'm confident."
For that plan, beating Zhang on September 23 will be vital.
"It puts me back in the mix in terms of the mandatories. The WBO gets called after the IBF which is up next. So I can get my shot in," Joyce said.
World heavyweight champion Tyson Fury admits he would be open fighting both Francis Ngannou or Jon Jones in a cage but says he would need a big financial offer to consider a move to MMA

"I'm coming to take back what's mine and take back that WBO Interim so then I can carry on my journey and become heavyweight champion of the world."
Zhang shocked Joyce when he handed the Londoner a first professional defeat in April, and Joyce will need a different approach if he is to prevail in the rematch.
"If you look at my previous fights, each fight I change a little bit depending on the opponent. I maybe underestimated Zhang a little bit, thought I would get him out of there in the later rounds," Joyce explained.
"Obviously he was very fast and accurate with the left [back] hand and the counter shots. But this time it's going to be different because I'm more motivated and switched on than ever."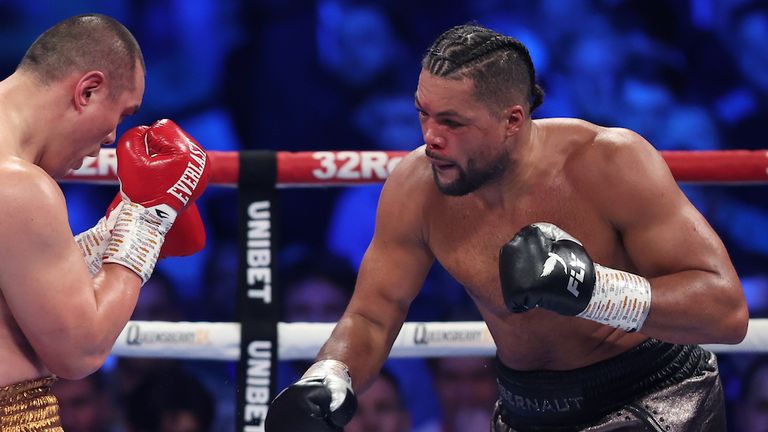 Zhang inflicted an eye injury on Joyce that ultimately stopped him in their sixth round. But the Briton does take encouragement from some of his work in that first fight.
"I was still in there and I was quite successful with the amount of shots I threw and landed and if it wasn't for the eye I think he was starting to tire mid-to-late rounds," Joyce said.
"He also knows that so he's been training hard as well. But I think I'm going to get it this time."