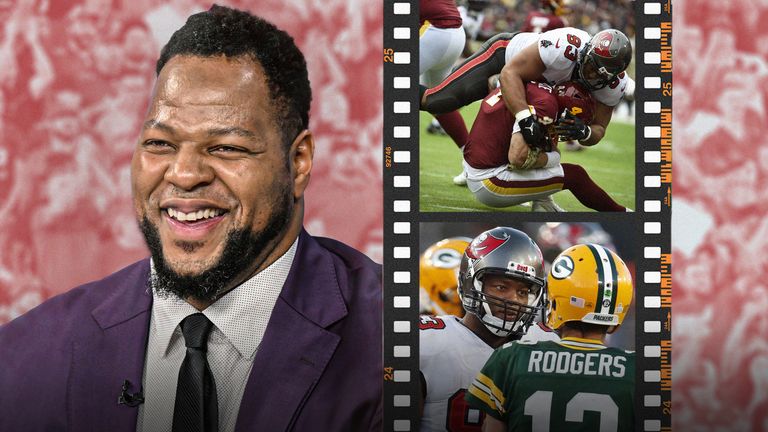 Super Bowl-winning defensive tackle Ndamukong Suh will join the Sky Sports NFL coverage for four weeks during the 2023 season.
The five-time Pro Bowler and three-time first-team All-Pro brings with him 13 seasons worth of expert knowledge, during which he has recorded 600 tackles and 71.5 sacks while winning one Championship ring across spells with five teams since being drafted by the Detroit Lions as the No 2 overall pick in 2010.
Suh arrives on the back of featuring in the Philadelphia Eagles team that reached Super Bowl LVII, where Nick Sirianni's side were beaten by the Kansas City Chiefs.
He previously starred in the Tampa Bay Buccaneers team, led by Tom Brady, that toppled Patrick Mahomes and the Chiefs to win Super Bowl LV at the end of the 2020 season, having made the first of his three Super Bowl appearances with the Los Angeles Rams team that came up short against the New England Patriots in 2018/19.
The former Defensive Rookie of the Year is now set to bring his insight to your screens as part of Sky Sports NFL's Sunday coverage in a four-week stint starting from October 1.
"You can expect a lot of excitement, great insights on football, especially from somebody who's been doing it for 13 years plus and potentially 14 years," Suh told Sky Sports.
"We'll see how things pan out after my amazing time over in the UK with you guys so just looking to have a lot of fun and give great insights.
"I've explored the UK a lot. I think this will be probably my seventh or eighth time over. I'm looking forward to getting to my favourite restaurant in London, and then obviously to go check out some great football as you guys call it over there. I grew up playing since I was three and love watching the Premier League.
"UK fans, I'm excited to spend time with you guys. We're gonna have lots of fun, lots of exclusive insights, and look to share many of those with you, not only in the studio, but also in person and around the game. So tune in and then let's enjoy!"
The key to winning a Super Bowl…
The race to Super Bowl LVIII in Las Vegas is on, with Suh able to vouch for the prime ingredients to any Championship contender.
"Outside of the little bit of luck, a lot of hard work," he says. "Along with consistency and a team coming together, you've been able to see teams, dynasties that have core members for long periods of time, but then you've been on the flipside to see a team just put it together at the right time, which I think when you look at my run with Tampa Bay and winning a Super Bowl.
"We had an amazing group of guys on defense, amazing group of guys on offense and we all put it together collectively as a team at the right time. Because we went through plenty of struggles throughout that season and it was not smooth sailing like it was when I was in Los Angeles.
"My first Super Bowl, when I went to it was smooth sailing outside of one blemish during the regular season against the Saints and then maybe a couple towards the end of the year. But overall it's like we're just running over most of the NFC, even the league when we got into the playoffs, and then just at the very end, we couldn't put it together to cement the deal. But I think there's a combination of ways you get to this to the Super Bowl but it always comes down to hard work."
The winning feeling
Suh finally captured his first Super Bowl ring a decade after entering the league, the wait only making the feeling of eventual victory even sweeter.
"That emotion was pure joy and excitement," he recalls. "It was probably one of the best years of my life, if not the best year of my life. One not only winning a Super Bowl but bringing my kids in, my twin boys into the world as champions.
"And I've always said this, my wife is been a huge part of my success. She first moved in when I was living in Los Angeles, and that was my first year to get to a Super Bowl. Unfortunately, we couldn't win it, but I was in the NFC Championship Game and then ever since then have been vying for one and been in three of the last six Super Bowls.
"She's a big part of my corner, so you've got to have a strong woman behind every great man."
Can Suh's Lions surprise the NFL?
Suh's introduction coincides with a season in which his former team Detroit have been touted as one of the league's potential surprise packages after a sparkling end to the 2022 campaign.
"I think the biggest story I'm excited to watch and see is the city of Detroit and the Lions," said Suh. "I'm excited to see them hopefully get back to an elite level like we were when I was playing there. We had some great seasons but 2014 especially.
"Aidan Hutchinson. Jared Goff, who I played with, and then obviously I wish the best for Dan Campbell, who was my interim head coach in Miami and spent some good time with him. Always respected him and and loved playing for him and then also against him when he was at the Saints.
"He (Campbell) is a ball of energy, just full non-stop bouncing off the walls. Great energy guy. There's no quiet time around him from recollection. But a coach that you love to play for. Always brings excitement to the game, even through tough times. He finds a way to be very positive and push people, which I've always appreciated about him."
Having spent five seasons with Detroit from 2010-2014, the former Nebraska Cornhusker is eager to see Lions fans treated to another Super Bowl run.
"There's no question you wanna see about some loyal fans," he added.
"Detroit has some of the most loyal fans and normally the only fans that I would pick over them as loyal fans would be the University of Nebraska, which are obviously the best fans in college football!
"I definitely believe that city is deserving of a Super Bowl, and I wish I could be there. Part of something of that nature because I know it would be amazing. I got so much joy and support from them and I love that city deeply."
Watch the 49ers at Steelers live on Sky Sports NFL on Sunday, with coverage beginning from 4.30pm ahead of kickoff at 6pm, followed by the Dolphins at Chargers at 9.25pm. Stream with NOW.