Formula 1 is hard at the best of times but the Singapore Grand Prix is physically the most demanding event on the calendar and has thrown up some stunning performances too.
Since 2008, F1 have been racing under the lights around the Marina Bay Street Circuit. As it's a street circuit, driving close to the walls generally means you go faster. However, it's so easy to go over the limit and end up in the wall.
Red Bull remarkably remain unbeaten in 2023 and Max Verstappen is on an unprecedented run of 10 consecutive wins. A major reason for this incredible success is Red Bull's mistakes, or lack of, as they have operationally been excellent.
But, if there is one track where they could be caught out, it's Singapore. In fact, it all went wrong for Verstappen last year in Qualifying and the Grand Prix, so can he make amends for that 12 months on?
Why has Verstappen not won in Singapore?
Red Bull generally haven't had the car to beat in Singapore, which is the main reason why Verstappen hasn't won there.
In 2017, the Dutchman started on the front row but was caught in the middle of Ferrari pair Kimi Raikkonen and Sebastian Vettel on the run down to Turn One.
A year later, Lewis Hamilton produced an outstanding Q3 lap to take pole position and controlled the race from Verstappen, who had to settle for second.
Ferrari surprisingly took a one-two in 2019, with Verstappen in third and the Covid-19 pandemic meant there was no Singapore Grand Prix for the following two years.
Last season, Verstappen was the big favourite but a series of operational errors in Q3 meant he started eighth. Having looked unbeatable in the opening two parts of Qualifying, Verstappen aborted his penultimate lap in Q3 in order to be the last driver across the line, but was then told to box in his final lap because he didn't have enough fuel. Both of those flying laps were good enough for pole.
In the race, he tried to overtake Lando Norris going into Turn 7, but locked up heavily and was forced to pit for fresh tyres, subsequently finishing seventh.
'Like you are in a sauna on a spinning bike'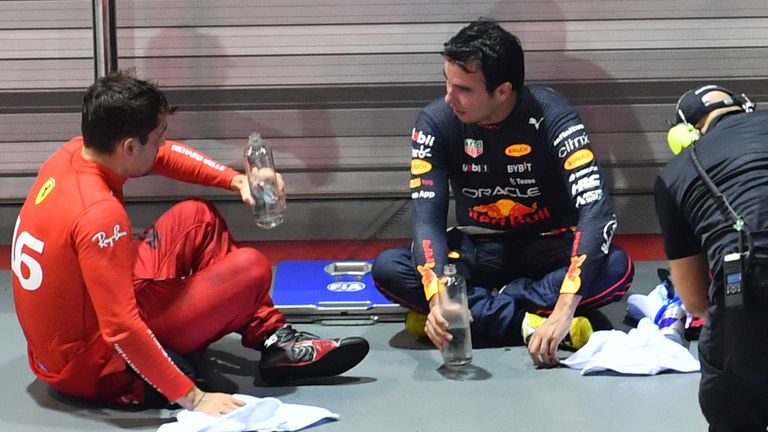 All the drivers say Singapore is the toughest event of the year due to the heat, humidity and demanding track. It's so hot, that the drivers' cool drink turns into drinking a hot tea after just a few laps in the race.
Nico Rosberg, who won the 2016 Singapore Grand Prix, describes the intensity of the toughest race on the calendar.
"I would lose eight pounds (3.6kg) of bodyweight from sweating. It's like you're in a skiing suit, while sitting on asphalt which is 45 degrees. Then you have the petrol right behind you, which is 65 degrees, so it's extremely hot," Rosberg said on the Sky Sports F1 Podcast.
"There's no fresh air coming in, you have the seatbelts really tight and the carbon seat moulded to your body, so you can hardly breathe properly.
"Corner after corner where you have to hold your breath in the corners, you can't breathe when you're cornering because you hold your breath.
"I remember after 10 laps I would look at the pit board and it would say '50 laps to go' and I'm thinking 'I'm done. I'm 10 laps in and there's 50 to go'. It's so horrible the feeling in the car, it's like you are in a sauna on a spinning bike for two hours.
"Your head is starting to pump within the helmet, your sweat is dripping down on the eyes and burning. It's incredibly tough."
Will Red Bull's streak come to an end?
Red Bull have won all 14 races in 2023 but have come under pressure on the higher downforce tracks, particularly over one lap. Think Monaco when Verstappen was forced to drive the wheels off his car to snatch pole from Fernando Alonso, or Hamilton taking top spot in Hungary with a mighty lap.
Singapore is all about mechanical grip and traction, two key areas the field are much closer to Red Bull. Ferrari showed that at Monza in Qualifying as they not only had strong straight line speed, but the drivers could stand on the throttle out of the slower corners with plenty of confidence.
Aston Martin should be back in podium contention too with their great change of direction and a car that turns very well in the low-speed corners.
The pole sitter has won eight of the 13 Singapore Grand Prix and overtaking is notoriously difficult, so a spectacular performance from one of the Mercedes, Ferrari or Aston Martin drivers in Qualifying, thus giving them track position, might put Red Bull on the backfoot.
"Singapore is such a difficult track. It's a track with one of the most corners of the year, it's never-ending, corner after corner. It's really difficult to get the setup right and get the tyres working properly," said Rosberg.
"Maybe we can have some surprises with some teams going extremely well. I think it's going to be refreshing."
New Singapore layout
There have been a few tweaks to the Marina Bay Street Circuit layout since its inception in 2008 but this year sees the biggest change as four corners have been removed in the final sector.
The construction of multi-purpose outdoor venue NS Square means Turns 16, 17, 18 and 19 have been removed, so the track will no longer go under the grandstand towards the end of the lap.
Instead, there will be a straight from Turn 15 to the old Turn 20 and 21 chicane (which will now be the Turn 16 and 17 chicane). This will put less stress on the tyres and give the drivers a bit of a breather too.
Nevertheless, Singapore is still so tough and a track that will seriously punish anyone who is not on their game.
Sky Sports F1's live Singapore GP schedule
Friday September 15
10am: Singapore GP Practice One (session starts at 10.30pm)
1.45pm: Singapore GP Practice Two (session starts at 2pm)
3.30pm: The F1 Show
Saturday September 16
10.15am: Singapore GP Practice Three (session starts at 10.30am)
1pm: Singapore GP Qualifying build-up
2pm: Singapore GP Qualifying
3.45pm: Ted's Qualifying Notebook
Sunday September 17
11.30pm: Grand Prix Sunday: Singapore GP build-up
1pm: THE SINGAPORE GRAND PRIX
3pm: Chequered Flag: Singapore GP reaction
4pm: Ted's Notebook
Next up for the F1 circus are the stunning streets of Singapore under the lights. All sessions from the Singapore GP will be live on Sky Sports F1 from September 15-17. Stream F1 on Sky Sports with NOW. Cancel anytime