Coco Gauff may have the weight of America on her shoulders but the 19-year-old is fully focused on joining the greats at the US Open when she takes on Czech Karolina Muchova for a spot in Saturday's final.
Gauff became the first American teenager since Serena Williams in 2001 to reach the semi-finals of her home Grand Slam for the first time.
The teenager dropped just two games as she blitzed Jelena Ostapenko 6-0 6-2 inside Arthur Ashe Stadium for her 16th victory in her past 17 matches, and now she will take on Czech 10th seed and French Open finalist Karolina Muchova with American, the crowd and a huge TV audience on her side.
Gauff says she's managed to deal with pressure by putting her life into perspective

"The dreams never came with the people in the stands and autographs. That was never in the dreams," Gauff said. "It was just, like, the trophy.
"If you want to win, there's two matches left, you can't think like that," the sixth seed continued. "I'm still in the mindset that I'm in the beginning of the tournament. That's what I have learned in the past from being in quarter-finals: 'Before, I would think, Close to the end. But right now, I have the mentality that I told myself, I still have another two weeks to play'. So that's where my mind is at. Then, obviously when it's over, it's over.
"But right now, I'm just saying, another two weeks.'"
Gauff's coach, Brad Gilbert, believes the American's success is down to her 'using more of the court' and 'extending the points'

Gauff reached the final at Roland Garros last year, but lost to Iga Swiatek and now her coach Brad Gilbert has helped her "strategise" calling her "incredibly humble and hard working" as she prepares for Thursday night's showdown.
"She does a lot of things really well, so you work with the things you have and you just try to get better," said American Gilbert, who is also a commentator and analyst for ESPN.
"Her best asset is being able to use more of the court and extend the points and I maybe moved her eight or nine feet on the return because so many players are up close. I'm just giving her the opportunity to use the things she does well and then ultimately she's the one who executes the game plan and wins or loses the match."
Gauff's upturn in form
It is hard to believe American Gauff is still a teenager given she burst onto the scene at Wimbledon in 2019. Her career seemed to have stalled horribly since reaching the French Open final last year, but Gauff has enjoyed a timely upturn in form and won in Cincinnati, beating Iga Swiatek along the way, for a fifth career title and a third of 2023.
Highlights of Karolina Muchova's victory against Sorana Cirstea in the US Open quarter-finals

Muchova, who was ranked 235th and exited the US Open in the first round last year, is very wary of Gauff, saying: "She's very athletic. She never gives up. Runs for every ball.
"Doesn't do many mistakes. So she has kind of all the strokes. So very, very good player from all the aspects."
In their first career meeting Gauff defeated Muchova in the final of the Western & Southern Open in Cincinnati as she claimed her second title of the summer and third of the season having won Auckland in January and Washington DC.
Is Konta sticking with Sabalenka?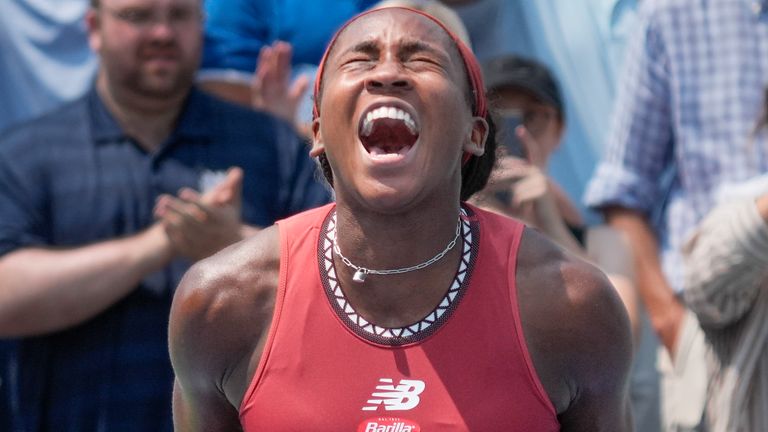 Even though she is so young she has so much experience under her belt which is quite a magical combination.
Sky Sports tennis analyst Johanna Konta believes Gauff will win a Grand Slam, eventually, but the former British No 1 is sticking with her pick, Aryna Sabalenka.
She said: "Gauff is looking good and making it into her first semi-final here at the US Open and I know she's the favourite for a lot of people and she could very easily win this year – she is going to win a Slam at some point with her ability and how much time she has on her side.
"I picked Sabalenka but I wouldn't be surprised if Coco won it.
"She has a great ability to bounce back. She's able to reignite energy and regroup very well and that translates into problem solving. Even though she is so young she has so much experience under her belt which is quite a magical combination."
Big-hitting semi-final showdown
The other semi-final sees Gauff's compatriot Madison Keys, runner-up in 2017, take on Sabalenka, who will be playing her fifth Grand Slam semi-final in a row.
Keys expects a tough challenge from Sabalenka, who beat her in the Wimbledon quarter-finals and is assured of the world No 1 spot when the rankings are updated after the tournament.
"Almost a completely different match tomorrow," said Keys. "It's going to be a lot of hard hitting, not a lot of long points."
The US Open on Sky Sports
Roger Federer has showcased his superb through-the-leg 'tweener' shots on multiple occasions at the US Open

Sky welcomes tennis back to its channels, adding to the existing sports portfolio and reaffirming the broadcaster as the home of live sport in the UK & Ireland.
Sky Sports' new mixed reality studio features multiple custom built LED screens, integrated light 'sabres', and an open canopy roof, making the space alive with colour and energy to reflect the vibrancy of the last Grand Slam of the year.
Relive Andy Murray's rollercoaster career at the US Open, which saw him claim his maiden major title in 2012

With integrated AR capabilities, a versatile LED floor, and a 'fourth wall', the viewer will be transported to the Arthur Ashe Stadium in a 360-degree immersive environment. Our tennis experts will take the viewer into the eyes of the players for expert Hawkeye analysis and insight as the tournament progresses.
The technology involved allows us to add an entire new dimension and will bring customers closer to the action.
Highlights of matches will be available across Sky Sports TV and our social media platforms.
Video highlights will also be available of the Sky Sports website and app, where there will also be a daily live text commentary on the Sky Sports website and app, as well as live scores, reports, analysis and features.