Sha'Carri Richardson delivers a late surge to win world 100m gold on Monday, clocking 10.65 seconds after catching Jamaica's Shericka Jackson, who takes silver in 10.72; Jamaican Shelly-Ann Fraser-Pryce has to settle for bronze in 10.77
Last Updated: 21/08/23 10:05pm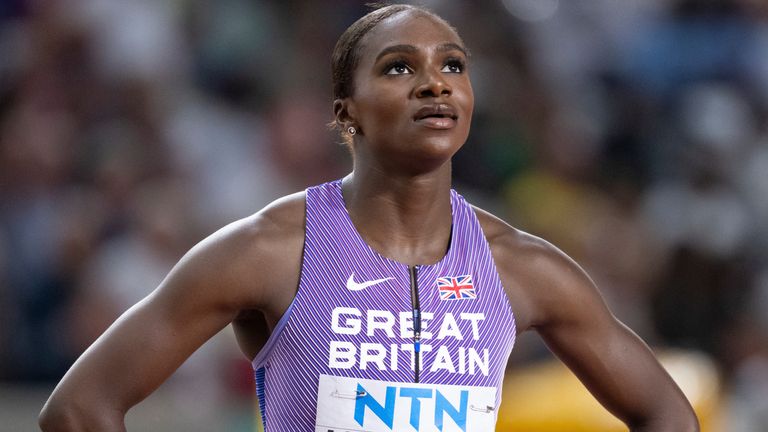 Sha'Carri Richardson stormed to the world 100m title in Budapest as Dina Asher-Smith was left baffled after trailing in eighth spot.
The USA's Richardson set a new World Championships record of 10.65 seconds to win ahead of Shericka Jackson and Shelly-Ann Fraser-Pryce.
Asher-Smith was left behind the leading pack after running a disappointing 11 seconds on Monday night.
Asher-Smith struggled in a favourable semi-final and ran just 11.02s to come third.
She needed to rely on a fastest-loser spot, along with Richardson after the American finished third in her heat.
"I'm almost in disbelief. I know myself and I know that I feel good. I came here for a new personal best," said the 27-year-old. "I know I'm in great shape. I ran 10.8 a few weeks ago. It doesn't really happen to me. That's why I'm so surprised.
"I was just running and towards the end of the semi I just couldn't feel my legs anymore which was a bit strange.
"I don't want to make a huge deal because at the end of the day I crossed the line, felt fine, got on with it, made the final, and felt absolutely fine during the final.
"I felt great but a mad day, mad day."
There was earlier disappointment for Daryll Neita as she failed to make it past her semi-final after running 11.03s.
"It's sad. It was crazy to be honest with you. I don't see what I did majorly wrong, I just feel like I wasn't fast, I didn't run fast enough," she said.
"It's a big surprise because I should be there. I came here to be in that final. The fact that I am not is super disappointing and it honestly feels like a repeat of last year in Eugene.
"That was at least a faster run. The thing keeping me on my feet right now is the fact I have the 200m to come back. It is keeping me going. It fuels a lot."
A tearful Holly Bradshaw failed to reach the pole vault final after only clearing 4.35m following illness at Great Britain's holding camp last week, although Molly Caudery qualified after passing 4.65m.
The 31-year-old, who crashed out of the event at last year's worlds when her pole snapped in the warm up, failed at 4.50m before two unsuccessful attempts at 4.60m.
She said: "My mental health is really suffering from doing this sport right now. I am not near my family, I've still got four competitions but I wanted to try and get the Olympics qualification.
"I don't really know how I feel right now. At the moment, I don't want to compete or think about the pole vault or do anything.
"I'm really gutted and heartbroken. I felt really good coming into this. I had some good sessions out in Slovakia but I picked up some stomach bug on Thursday and was basically being sick the whole night.
"That's quite unusual for me. I have not really been able to eat much since. I have not trained because I have been trying to conserve my energy and I felt awful."
Jessie Knight won her 400m hurdles heat in 54.27 seconds to reach Tuesday's final at the National Athletics Centre.
She said: "It is probably the best mentally and physically that I have ever been coming into any Championships.
"I am starting to feel quite at home in this environment now. I had previously felt like a bit of a newbie in the major championships but I am settling in nicely now."