Twenty-one-year-old super-welterweight sensation Xander Zayas hopes to follow in Puerto Rico's rich history of producing boxing legends.
Undefeated and with great potential, Zayas is gearing up for his next challenge against Roberto Valenzuela Jr at the American Bank Center in Corpus Christi, in the early hours of Saturday morning live on Sky Sports.
Zayas has been making waves in the boxing world, and for a good reason. His last outing in June, an impressive unanimous decision victory over Ronald Cruz, took place on the undercard of Teofimo Lopez's victory over Josh Taylor at Madison Square Garden.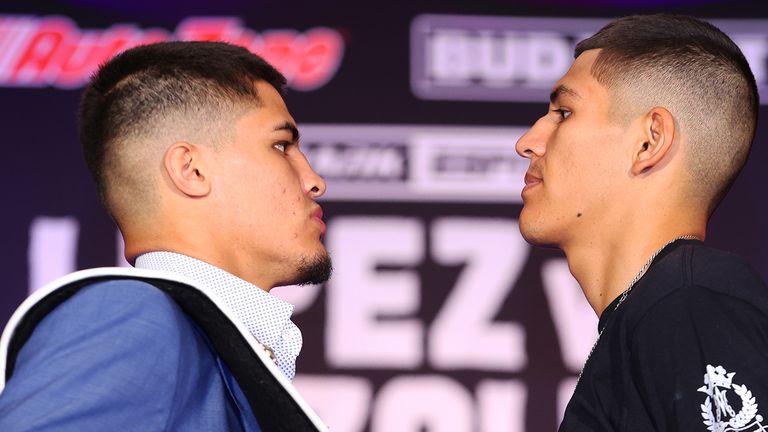 "Being involved in the Puerto Rican Day weekend was an amazing experience for me, something that I always dreamed of and being the co-main event to such an amazing fight, Teofimo Lopez versus Josh Taylor was something special," Zayas told Sky Sports.
With a professional record of 16-0 (10), Zayas is a star in the making. His contemporaries in the super-welterweight division should take note, as Zayas is on a mission to solidify his status as a force to be reckoned with.
"If the game plan is to box or the game plan is to go fire with fire, I'm ready to do whatever it takes to get that victory," he said ahead of the Valenzuela fight.
His upcoming bout against the 21-4 (20) Mexican promises to be a stern test. Zayas is well aware of the dangers this fight presents.
"In every fight you have to be cautious. A punch can change a fight. If they get you right, if they get the timing right of the punch, they will knock you out," he said.
"We'll be cautious about his power. Being smart, following the game plan and having fun in there are going to be key components for my victory."
Zayas dreams of bringing a title fight to Madison Square Garden and Puerto Rico. His aspiration is to headline a show on a Puerto Rican Day weekend event, celebrating his heritage and contributing to the legacy of Puerto Rican boxing.
Xander Zayas stopped Elias Espadas in the fifth round after his second knockdown at the Resorts World Events Center in Las Vegas

"That's every Puerto Rican's dream. That's something that I really want to do. I want to be able to win a world title in Madison Square Garden. Hopefully on a Puerto Rican Day weekend or if not, win it in my island of Puerto Rico," Zayas said.
He dreams of following in the footsteps of iconic Hall of Famer Miguel Cotto, though Zayas had this to say about comparisons between him and the great man: "It's an honour for me. I respect all the Puerto Rican legends that came before me, but I don't see myself wanting to compare with other people.
"I want to be myself. I want to be Xander Zayas."
Undisputed super-welter champion Jermell Charlo is stepping up to the super-middleweight to fight Canelo Alvarez. That move up to a higher division could open the door for others to challenge for belts at 154lbs.
"We know for a fact that now he's going to vacate a couple of titles because they're going to make him do it once he steps in the ring with Canelo. So that will give the division a bit more freedom to have more fights, to have title shots, title eliminators and overall it's going to open the division," Zayas explained.
If a potential world title fight was on the cards next, Zayas would not hesitate. "I know what I can do. I know I'm ready for every opponent that they put in front of me," he said.
"I train hard, I have the dedication, I have the hard work. Now it's just a matter of time."
Xander Zayas' clash with Roberto Valenzuela Jr will be on the Luis Alberto Lopez v Joet Gonzalez undercard from 1am on Saturday morning live on Sky Sports Arena